So, you want to play some Genshin Impact on your Chromebook.
The latest viral hit from miHoYo was a sleeper- it literally blew up overnight back in September out of nowhere.
(I didn't even know what miHoYo was or existed until I saw this game go viral on Twitch.)
Now in 2022, the game has dropped down a bit in interest. But it's still being played like crazy. Especially with its Epic Games Store release.
(Besides, who cares if it's popular or not? It's all about the solo adventure! As long as miHoYo releases updates, play it!)
But it's still going strong as ever with a dedicated community making nonstop fanart.
The game was released on PC, Android, and iOS. As usual, there was no Chrome OS version.
But no one's surprised. I mean, it's GENSHIN!!!1!1
(Zhongli didn't sponsored this post.)
In this guide, we'll bypass that restriction and learn how to download, install, and play some Genshin on a Chromebook =].
We'll cover:
What you need to run the game on Chrome OS (system requirements)
Different ways to get the game (Linux, Lutris, sideloading)
How to optimize performance (FPS, fix lag, change settings)
Controller inputs to play Genshin on a Chromebook
By the end of this guide, you should be able to run the game (assuming you have a Chromebook that's powerful enough with the right control input).
Sound good? Let's play some Genshin on your Chromebook!
What you'll need to play Genshin Impact on a Chromebook
The game is demanding on RAM and CPU.
Although it's nothing like Crysis was back in the day, the game still does need a good amount of power under the hood to be playable.
Note that "playable" is subjective- I say anything above 20FPS qualifies. But to others, that may be a slideshow.
Hardware requirements
I'd recommend that you have at least the following Chromebook tech specs for it to be playable:
Intel Core i3 or higher
32GB of SSD storage or higher
6GB RAM or higher
If you don't know your computer's hardware, check out this post to find out what processor, RAM, or storage your Chromebook has.
Note: You NEED an Intel-based CPU (processor) for this to work. If you have an ARM-based CPU (Rockchip, MediaTek, etc.), it's not going to work. Intel only (Core, Pentium, etc.). Obviously, Chromebooks with some older tech definitely will have performance issues.
This is because ARM runs on 32-bit but the game was built for 64-bit computers.
Touchscreen is pretty much required
For this game to work optimally, you'll need a touchscreen Chromebook.
A convertible works best so you can switch between tablet and "tent" mode as needed. Playing it clamshell style is subpar.
Genshin Impact is a touchscreen game, designed for input from your fingers (excluding the PC version).
Since your phone is a touchscreen, you'll be lost if your Chormeobok doesn't do the same. We'll be getting the Android version, so you'll have on screen buttons to touch for your items, characters, inventory, quests, etc.
Playing with keyboard and mouse isn't an option for this game because it doesn't register them (from my experience). You'll need a touchscreen convertible OR a Bluetooth controller that's compatible with Chromebooks.
(Don't have a touchscreen and ready to upgrade? Check out some of the best touchscreen Chromebooks.)
Check your Play Store version
The majority of Chromebooks are only running Android 5-7 or so, and Genshin Impact requires at least Android 8.1 to even run.
So if you're a few versions behind, the game will install but will crash or won't even open when you try.
You need to make sure your software has the latest version or find a Chromebook that does.
Other than that, the game should work.
How smoothly it runs depends on how powerful your machine is. If you have a Chromebook Pixel, you're probably laughing your way to the APK download.
But you're running on a potato, I can't help you with that. Sorry.
Expect some epic exploration at 3FPS.
Method 1: Sideloading with Genshin's APK with Developer Mode
This is straightforward, simple, and quick. It doesn't get any easier than this.
Sideloading from the APK allows you to directly run the Android version of Genshin through your Chromebook's Developer Mode (Dev Mode) with just a single click of the mouse (or touchpad)!
Understand the risks
Developer Mode allows your Chromebook to be exploited by vulnerabilities, malware, etc. You basically disable the inbuilt protection (OS verification) that Chrome OS offers to allow your Chromebook to run APKs.
You should only do this if you've made backups of all your data and understand the risks of doing so.
You should also be extra cautious of downloading or installing any files when Dev Mode is enabled. If you don't know what you're doing, you should skip this method.
However, it's the easiest one in my opinion, so I listed it first. For people who aren't up for the challenge, use another method on this tutorial
Backup your data
Create a digital backup of your data because Developer Mode erases your Chromebook completely.
You'll lose everything saved on in your Downloads folder, settings, options, videos, pictures, documents, wallpapers, etc.
You can save it to an external drive (SD, EHD, flash drive), or use a cloud service like Google Drive, Dropbox, etc. Whatever floats your boat.
After you've made a backup, we're going to turn on Dev Mode.
Here's a tutorial on doing so. Follow the steps there then come back.
Note that some Chromebooks have an actual switch on the side that you need to toggle (I'm talking about a physical switch) to enable it. Modern day ones can be done through the GUI.
So now that you have a fresh Chromebook with Developer Mode ON, we can proceed with getting Genshin Impact.
Download the Genshin Impact APK
Launch Chrome and get the Genshin .apk file.
There are different sites you can grab it from. APKPure has a few good ones. The game takes up around 10-12GB as of version 1.2, so you'll want to leave plenty of space for the game to install- especially if you have a 16GB SSD Chromebook.
Watch out for multiple versions. You'll want the newest update so you're not playing on an older version of Genshin.
At the time of this writing, the latest update is 1.2 with 1.3 on the way. No point in playing an older one if you want the bug fixes, UI improvements, performance fixes, etc.
But you have the option to rollback if you want by downloading the proper version.
Sideload
Now it's time to sideload. It basically means running/transferring the software on one device without having to download it from the Internet. In this case, we'll be running the Genshin .apk on Chrome OS.
Find it in your Downloads folder and note the name of the file.
Write it down or make a note of it on your Chromebook. You can also rename it to something easier to remember- like "gi.apk" for reference later. (Please do this!)
Launch the .apk file by double-clicking it. In Developer Mode, the file will install automatically as soon as you kick it. The app icon will show up in your Launcher menu. Click on it.
The miHoYo launcher will start up asking for your username/password like you'd see on your phone.
The launcher doesn't launch!
If it doesn't or you get an error, you may not have enabled Developer Mode correctly. Try it again.
Note: When it's correctly enabled, you'll get a warning message every time you turn on your Chromebook. If you don't see it, it's not enabled.
Log in
Sign in to your account or create one if you don't have one yet. It'll start up and then verify your credentials.
Minimize Genshin!
Then you'll see the title screen asking you to choose a server location.
However, you'll probably notice that it's EXTREMELY laggy and will crash after a few seconds (before you can even choose a region!). The game is trying to download/update but watching the status bar crashes Genshin.
Don't stay on the title screen while it downloads and installs. That's the workaround.
The bar at the bottom says "downloading resources" then stops 1% or so. When the background animation stops playing, you know the game crashed.
This is expected. It just doesn't work right now through sideloading.
The trick is to launch some other app or program while it's downloading the game. Minizmie Genshin Impact while it downloads and do something else.
Do NOT maximize or bring the game during this process! You'll end up forcing it to crash again.
Wait for Genshin to finish installing
Click on your picture in the bottom-right on the desktop of your Chromebook. You can watch the progress of the game's installation using the native status bar.
Be patient. Watch some Genshin Let's Play. Or not, since it may use up all your Chromebook's processing power.
The process takes anywhere from 30 minutes to an hour depending on your hardware.
Don't restart your Chromebook
Now that you have everything set up nice and smoothly, enjoy!
Note that whenever your Chromebook restarts, you want to stay in Developer Mode. If you don't, your Chromebook will Powerwash itself and then wipe everything.
So don't hit the wrong keys and lose your progress on the game!
Method #2: Sideload with Linux
Sideloading with Linux is a good subiustiate over Developer Mode for two reasons:
It keeps your Chromebook in a stable environment, which theroteciallsy is safer and has less exposure to vulnerabilities/exploits
It doesn't wipe your device
The drawback is that you'll have to use some code. If you're afraid of this, don't worry. I'll lay out everything you need to type in the command terminal to get you started.
Turn on Linux
Go to your Chromebook's Settings page and enable Linux (Beta). Do this by:
Click on your account picture at the bottom right.
Click on Settings (gear icon).
Find Linux (Beta). This is the last option on the left menu right above "Advanced" with a Penguin incon.
Click Linux (Beta) > Develop Android apps > Enable ADB debugging > Restart and continue.
Your Chromebook will automatically restart after you enable it. You'll see a screen that says "Enable ADB debugging?" before you can sign in to your account.
Click on the blue "Confirm" button at the bottom right of the page.
You'll then see a warning message in red text on a black screen that reads
"This device may contain apps that haven't been verified by Google."
Scary indeed. If anything, Google made this page especially freaky compared to the rest. But that's OK. No worries.
You'll still be able to keep all your files and remain in a stable version of Chrome OS. So you're protected against threats and vulnerabilities for the current version you're using.
Note: Not everyone can use Linux. Only Chromebooks with the Linux (Beta) feature will be able to do this easily. I wrote about how to enable the function here.
Download the Genshin APK
Just like the Developer Mode method, grab the .apk from your website of choice. I used the APK file from apkpure just like earlier. The version you choose matters. The latest one is 1.2 at the time of this writing.
Grab the file and rename it something easy to remember, like "gi.apk" so you know what it is.
Load up Linux
Find the Genshin APK file in your Downloads folder, and move it to your "Linux Files" on the left.
After you've enabled Linux (Beta) there will be a new menu option under "My files" on the left. You can drag and drop it in.
Install the APK
Hit "CTRL + ALT + T" to launch the command prompt in Linux. Time to code!
Type the following commands to install the game through Linux (Beta):
Note that the commands are case sensitive and need to be typed exactly as shown.
Also, don't include the quotes. If you get "unknown command" you probably typed it in wrong.
"sudo apt install adb"
Hit Enter.
"adb connect arc"
Wait patiently like a good person.
When you see the prompt asking you if you want to allow USB debugging with an RSA key fragment, hit "OK" to continue with the installation of Genshin.
"adb -s emulator-5554 install gi.apk"
Note that if you named it something other than "gi.apk" you NEED to swap the name with whatever you named it. Or else you'll get an error. This is why it's easier to rename it something short and simple. Replace as needed.
Hit Enter.
The text will show the status, which is a bunch of "setting up xyz " and "processing triggers" entries. Let it do its thing and wait until it's done.
When it's complete, you'll see that logged in the prompt.
Run some updates just for good measure after it's done:
"sudo apt update"
"sudo apt upgrade"
After that, you're all set. You can launch the game using the Genshin Impact icon which should be present on your Launcher.
Download Genshin Impact
Click on the icon to launch it. Log in with your credentials as usual. When you get to the title screen, minimize the app and let it download and install the game on its own. If you keep the app maximized on your screen, it'll crash and you'll have to start over.
Wait for it to install
You can check the status using the notification center on your Chromebook. Click your account picture to watch the status. When it's done, you'll be notified with a toast notification.
Log in and play! Enjoy!
Get it from the Play Store
Simply finding the game from the Play Store and downloading it through there is the easiest way to play!
Sadly, most Chromebooks will throw the "device not compatible" error because the version differences are too great. But if you have a newer Chromebook with a powerful setup, it's worth a try.
Easier than screwing around with APks. But if not, then proceed with this tutorial.
Try QooApp
QooApp is a game library similar to the Google Play Store.
If you get the message that the game isn't compatible with your device:
You don't have any devices
Or
Device not compatible
Then you may be able to use QooApp to bypass this restriction. It's an eastern game marketplace alternative. Some people argue over the legality of it, so do your due diligence before you attempt this. Proceed at your own risk!
With Genshin Impact already being a free game, it's just another medium to distribute it.
Here's a video showing you how to install it:
After it's installed, grab Genshin Impact from their game database and install it.
Try launching the game with QooApp and see if it works for you.
Play on Lutris
Lutris is another way you can play the game.
It's a game launcher that runs on Linux and makes the process of downloading, installing, and playing games simple. Think of it like Steam or GOG.
You'll need Linux to get Lutris. And I don't recommend the Linux (Beta) feature because it doesn't work as well as going all out and dual-booting with Chrome OS/Linux.
So for this to work, we'll get a full desktop version of Linux first.
The process will require you to enable Developer Mode, so you save your important files before you proceed.
After you've made backups of your data, follow this guide to turn on Dev Mode.
Then, download Crouton here.
Read the GitHub page because it answers a lot of questions you may have- such as enabling touchscreen support with Linux (which is a necessity if you have a touchscreen Chromebook).
It also contains some "quick start" information that'll get you going and should lead you to success.
If you get stuck at any point during the process, you can follow this guide to get Ubuntu on your Chromebook.
So now you should have both Chrome OS and Linux Ubuntu on your Chromebook. Developer Mode should be enabled and you should be able to boot into Linux.
Great. We're ready to get Lutris and then Genshin Impact!
Go to Lutris and download the software. Here's the download page.
If you prefer to use the terminal, type the following:
sudo add-apt-repository ppa:lutris-team/lutris
sudo apt update
sudo apt install lutris
If you get stuck, read their neat FAQ page for detailed instructions on installing the software.
But it should be straightforward since all the code is laid out for you, even if you have no idea what you're doing.
Now with the power of Lutris, you can install Genshin Impact on your Chromebook easily. Launch Lutris and search for the game and install it. Or you can go here and install it directly.
When it's done, just click on it in your game library and launch it. Enjoy Genshin!
Troubleshooting
Here are some errors you may come across when trying to get the game downloaded on your Chromebook.
More than one device/emulator
If you see this error when trying to install the game, make sure you typed the "emulator-5554" flag in the command. Double check your spelling.
Use Android Studio
Installing Studio may help fix the "missing ADB" issue. Run the terminal, then type:
"sudo apt-get install android-tools-adb"
Try running the previous command that threw the ADB error again and see if it works.
No matching ABIS
This is a common error that shows up when you type the ADB command:
adb -s emulator-5554 install gi.apk
It reads something like this:
adb: failed to install genshin.apk: Failure [INSTALL_FAILED_NO_MATCHING_ABIS: Failed to extract native libraries, res=-113]
The easiest way to fix this error is to make sure that everything is updated. This means updating Linux AND Chrome.
A lot of people simply updated their software and this solved the problem. You'd be surprised at what can be fixed.
Even if you're thinking that this won't do anything because you just updated recently, it just may.
Do it and see what happens. It's easy!
Update Linux:
Launch terminal
Type these commands:

"sudo apt update"
"sudo apt upgrade"
Update Chrome OS:
Run Chrome
Go to Help > About Google Chrome
See if there are any new updates in the dialog box that pops up. Update if available.
This should fix the error and get you one step closer to those five stars.
Optimizing performance on Chrome OS
Genshin Impact runs poorly on Chromebooks. There, I said it.
The game is pretty crappy on high settings and you'll get lots of lag, slowdown/catchup, and poor FPS.
Unless you have a beefy Chromebook, you should expect low frame rates as the game isn't optimized for Chrome OS. Consider looking into a laptop cooling pad as well. This game requires a lot of rendering as you travel.
Or even made to run on it. So yeah.
Here are some things you can do to optimize performance on a Chromebook:
Graphics Quality = Low
Display Mode = 1366 x 768 Windowed
FPS = 30
V-Sync = OFF
Render Resolution = 0.8
Shadow Quality = Low
Visual Effects = Low
SFX QUality = Low
Overall Settings = Low
Of course, if you're running on a potato, you probably won't be able to get smooth FPS no matter what your settings are set to. I find that the resolution makes the biggest difference.
Although it'll look ugly, it does smooth out the gameplay so you're playing a walking simulator rather than a lag simulator.
OK, nevermind. That was bad. I'm off to Mondstadt now.
Controller support
If you don't have a touchscreen, you'll have to use a supported controller to play the game.
You can use an Xbox, PS4, or Switch controller with Genshin Impact so you can play without using the buggy touchscreen.
Some people have said that it works with an Octopus, but it seems to be hit or miss. But if you already own one, you might as well try it.
Here's a list of supported controllers for Chromebooks.
Find one that Genshin works with and you'll be OK. I prefer the controller over the touchscreen because it's awkward to play on a huge screen with your fingers. Use a controller for best results.
There are plenty that are compatible with Chrome OS for cheap. If you're only wanting to play Genshin, get a cheapo one.
Other games you may like
Since you know how to sideload on Chrome, try these games out:
Did you get Genshin Impact on your Chromebook?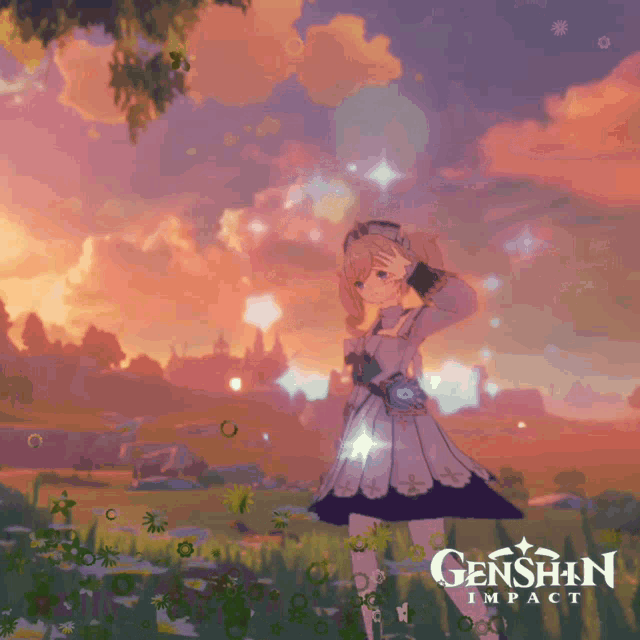 You should now be able to play some Genshin on Chrome OS! Congrats.
This game deserves to be played on the big screen. Even though your Chromebook is possibly 11" diagonal, that's still much easier on the eyes than a 6" screen.
For those who want to play Genshin and get their 1 Resin on and explore their favorite RPG on Chrome OS, I hope this guide allows you to do so with ease!
If you have any questions, just post them in the comment section.
If you found this page helpful, please let me know. Consider telling a fellow Genshin player who may find it to be useful.
Enjoy exploring Teyvat.
Thanks for reading!