HP's newest Chromebook- the Chromebook 11 G5 has some of the newest and best Chromebook features available on the market.
The Chromebook 11 G5 firstly has touchscreen compatibility as an option. Now, many people like having a touchscreen Chromebook (me not being one of them), but for those who don't want to swipe their fingers all over their laptop's screen, the Chromebook 11 G5 takes care of that. If you don't want the touchscreen option, you can buy it without it.
[the_ad id="2478″]
HP Chromebook 11 G5 is a touchscreen device
Why is the touchscreen important? Because with the Play store coming to Chromebooks, the many Android apps that we're used to will be available for use on Chromebooks. Given that all these apps were developed for smartphones, they're built for touchscreen use. Chromebooks will have a different UI, perhaps with the keyboard or mouse, but for those who want an experience similar to that on their smartphone, a touchscreen Chromebook would be ideal. Thankfully, the HP 11 G5 Chromebook has the touchscreen option.
The HP 11 G5 has been redesigned with a thinner profile and reduced weight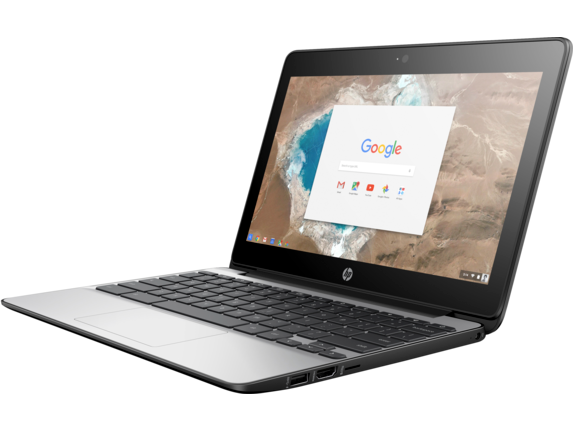 The G5 isn't the first HP Chromebook in the line. It's been completely slimmed-down compared to previous Chromebooks, and has also been redesigned to improve over previous versions. The bezels around the display were one area where customers of the previous HP Chromebooks complained, so HP went ahead and shrunk down the bezels to make the 11'' screen appear to be bigger and the overall body and weight reduced. This means that the HP G5 is ready to roll with its new and improved mobility and lighter body.
HP 11 G5 Chromebook sports a 12.5-hour battery
The HP 11 G5 also promises a 12.5-hour battery run. This is actually not that surprising since many Chromebooks have amazing run times on a single charge. Even basic Chromebooks that are considered "entry-level" Chromebooks come at cheap price of less than $200, and have a run time of about 9 hours. Based on my experience, battery run time is completely dependent on the apps you're running and how many. If you're running one or two with a dim screen, you'll probably get a full charge out of your Chromebook. If you have many apps running with music in the background, and a bright screen, you'll drain the battery like crazy. I'm not sure how they perform these runtime tests for batteries on a Chromebook, but it's gotta be based on the use of an average Chromebook user. Not power users. However, if you want the best battery run on a single charge on a Chromebook, the HP 11 G5 should be considered one of the higher standards.
Under the hood isn't as impressive
As for the G5's specs, they're honestly not that impressive. It's powered by an Intel Celeron N3060, which is good enough for basic use but nothing beyond that. It has the standard 4GB of RAM and 16 GB SSD for storage. The processor is what's going to give the Chromebook that speed you're looking for, and the processor it comes with is just standard. You can do basic things such as browsing the web, writing documents, writing code, watching YouTube videos, writing emails, and you get the point. Anything beyond that like video editing, heavy image editing, heavy gaming, or even running some demanding apps is beyond that power of the Intel CPU that powers the HP 11 G5.
HP Chromebook 11 G5 variants
However, the HP Chromebook 11 G5 is pretty cheap for a Chromebook with such a sleek design and improved shell. It's starting price is a mere $189, which is right below HP's Chromebook 13. The Chromebook 13 is a more powerful Chromebook made by HP. The Chromebook 11 G5 is probably geared towards entry-level Chromebook users or even computer users. Chromebooks have made an amazing impact in the educational world- many school districts are using Chromebooks for education. and it contributed to Chromebooks overtaking Apple's MacBooks sales.
Should you buy a G5?
With the Chromebook 11 G5 having a slim profile and body, it allows students to easily backpack it and transport it. It also allows lightweight transportation, as the G5 is a relatively lightweight Chromebook. Also, at a very low price for starters, the HP G5 is also a pretty cheap Chromebook, which makes it perfect for laptop beginners and school budgets that are looking to adopt Chromebooks. Some models of the G5 even have Gorilla Glass to protect from bumps and cracks to the Chromebook's screen.
HP Chromebook 11 G5 release date and pricing
The HP Chromebook 11 G5 will be available in Q4 2016. It'll come in different variations, with the base model at $189 without the touchscreen. If you want the touchscreen G5, it'll run you a fair amount more at $269. At this price, it opens up the realm to a bunch of other Chromebooks under $200 that you should consider. Either way, I'm excited to see the innovation Chrome OS and Google is spitting out. With the Play store coming to Chromebooks, you can see that Google is developing Chrome OS to make Chromebooks more versatile and increasing the range of software available will make it a more scary contender for Windows or Apple to face.
[the_ad id="2483″]