So you're looking for the best Chromebook games you can play- and play right now.
Well, my friend, you've come to the right place. These titles will have you glued to your screen for the next week (at least).
(If you're in a hurry to get your gameplay fix, just scroll down to get to the list.)
Maybe you're waiting at the pit stop, or you're waiting for your dentist, or you're just bored. Whatever the case, I went ahead and scoured the web. I also went through the Chrome Web Store and compiled this list of Chrome OS games you can download and play now. Actually, you install these games, not download. Pardon my wording there.
Last updated: 5/10/17. I'm constantly keeping this list up to date so you can play all the (best) things you can lay your fingers on.
Are these free or paid Chromebook games? And why are they the "best" games? How are they chosen? Is there bias?
All of these games are available on the Chrome Web Store for free. They either install and play or offer a demo so you can try out these games before you buy it.
Some offer in-game purchases, like premium currency. This supports the developers. If you've played any typical indie game before, you'd know about this already. It's nothing new.
It should be no surprise. Anyway, let's get started now.
Like, right now.
I've compiled a list of Chromebook games that you can check out and try out for yourself. These games are all based on popularity and personal opinion.
Note that this list also includes my own opinions as well, as I've played all of these games (and still do).
And this list is heavily biased towards retro and MMORPG-like games. Why? Because these genres are my favorites. Of course, I try to keep it well-rounded with a bunch of genres thrown into the mix.
Well, there's only 6 games on this list, but you'll see what I mean. It should be enough to get you started and playing.
Here we go, let's get to the list of games. I promise this time.
The 6 best games for Chromebooks that I've played so far (and still play today)
Best Chromebook Game #1: Arcane Legends
This is actually the first game I've ever played on a Chromebook, and it's still the one I play the most. It's basically a mixture between hack-and-slash Gauntlet-style gameplay with a mix of RPG elements- like you'd find in World of Warcraft. It's nowhere near as in-depth.
But there's enough detail and customization especially for a browser-based game. You can choose 1 of 3 classes, and customize a simple skill tree. You can do quests, dungeons, party quests, grinding, levels, pets, friends, guilds, and all the typical stuff you'd expect from an MMORPG.
The perspective is permanently fixed from an angled top-down view, but you can zoom in and out.
The graphics are appealing and detailed. Because of this, there are lag spikes here and there- especially in crowded areas with lots of other players. The music is decent, but does loop and has a limited selection. It's nothing memorable but it's so action-packed that you'll likely ignore it.
Here's a gameplay video. As you can see, the game plays like a regular MMORPG but in your browser. It's so detailed and deep that you'd mistake it for a full-on game where you'd normally have to download it:
The playerbase is also huge. You'll see other players everywhere you go. Even in the areas that seem deserted, there are always a few people and likely willing to party up. I play this game daily and still can't get enough. It's probably where half of my Chromebook battery goes every charge.
There are daily quests which keep players coming back. The playerbase is also pretty friendly, but many people are high level due to lack of updates. The game does get updated, but it's usually for low to mid level players. However, you can simply create one of each class to keep the game fun. There are also plenty of skills to try out.
The keyboard and mouse work out perfectly, and even using a trackpad is easy. You have your basic controls and hotkeys for skills and potions.
The pet system is dynamic and offers a new perspective to web-based MMOs. Each character also has a special attack that charges up, and your pet does too. You can also use a variety of pets, each with their own special attacks and purpose. You can also switch between pets easily without any drawback. Combat is done by clicking on the enemy but you also use hotkeys to perform skills.
Arcane Legends does indeed lag on budget Chromebooks (like mine), but it's only when it's crowded and there's a lot going on. However, it's not often and it's still playable. I mentioned this earlier, but it's probably the only problem I have with the game. The graphics are a little too much to handle for cheaper Chromebooks with lower specs.
A mid-level Chromebook and up should be able to handle Arcane Legends with no problem at all. The graphics are simply gorgeous even when zoomed-in. And the level of detail when zoomed is still excellent. It doesn't pixelate nor blur like a lot of other games in the same genre of MMOs. Highly recommended. It's an awesome RPG that'll keep you busy for weeks. (At least it did for me.)
Here's a pro tip: One thing I didn't like is the updates. It's a double-edged sword. They constantly release new updates so you'll have to sit through them while waiting. You get new stuff, but you have to wait to play. You can't even minimize the window while it's updating or else it stops and you need to relaunch it.
However, you can easily get around this if you just do split screen mode "CTRL + " and it'll load up while you can do something else.
Mine is pretty dated but still runs it pretty smoothly. If you really like the game, you can easily install it and run it on your Windows computer as well for that extra FPS boost.
The surprising thing is that it's all browser-based. It's the best browser-based MMORPG on the Chrome web store, in my opinion. If that's your thing, I suggest you give it a try. It's also free to play and requires no download. Check it out.
Play Arcane Legends here.
Best Chromebook Game #2: AirMech: Combat Transformed (Currently only available for Windows)
AirMech is MOBA game where you control a robot transformer plane and lead armies against the enemy base. You can go against 4 people, or do 3v3 games. The graphics and sound for AirMech are spot-on, and really fit the theme of it.
It's not as in-depth as leading MOBAs out there (League of Legends, Dota 2, or Smite), but again, it's browser-based.
If you're in the mood for some quick strategic gameplay, AirMech should fit the mood. It plays very similarly to LoL, with similar UI and HUD. But the issue is that it's browser-based, so you can't expect as much as a full game that you download and play.
It's hard to describe since it has a lot of similarities to the leading MOBAs, but at the same time, it's on a smaller scale. It's like a slimmed-down version of LoL.
AirMech was one of those games that I was really into but quickly fell out because I prefer LoL. But if you're on-the-go, this game will run excellent on your Chromebook and can satisfy your MOBA cravings.
Update: I haven't played this game for a while, but AirMech has recently been updated and is now only available for Windows. If you install the app, it's literally just a link that'll take you to their website with a download link for Windows-based computers. Not sure why they changed it. I'll have to keep an eye on for when (or if) it reverts back to being compatible for Chrome OS. But if you have a PC, you can still play it.
Check out AirMech here.
Best Chromebook Game #3: Entanglement
Entanglement is a puzzle game. I know, puzzle games aren't for everyone, and a lot of people just don't understand how Tetris can be fun. But, for those of you like puzzles (like me), you'll like Entanglement.
It's always been one of the leading puzzle games due to its addictive gameplay and gorgeous graphics. The point of the game is to lay down tiles to make the most random paths possible. It gets harder and harder as you progress through the game.
You need to make a pattern or design with the tiles you're given. It's hard to explain, but if you're looking for a puzzle game on your Chromebook, give it a go.
It's easy enough for a beginner to pick up, but challenging to master. It's a very relaxing game that you can play to de-stress. and it runs perfectly on Chromebook since it doesn't require many resources, even though it looks amazing for a web-based game. It's also a free game for any Chromebook to install and play.
There's nothing much to say. It'll keep you busy and it's pretty addicting. If you like games, try Entanglement. This game also runs offline so you can play it anywhere.
Play Entanglement here.
Best Chromebook Game #4: Polycraft
First, this isn't Minecraft, as similar as it sounds. You're stranded on an island with all these weird, Rayman-like baddies, and your goal is to explore and thrive. It also runs offline, which is awesome if you don't always have a WiFi connection.
There's a survival mode like Minecraft, but there's a tower-defense mechanic to it. You use towers to defend your base from attackers. You also have the traditional building, crafting, and exploring elements.
It's a very weird game.
The visuals are strange, yet very pleasing to look at. It's like playing tower defense in Minecraft. You'll have to play it to understand it. The game's graphics are very nice and look like a mix between cel-shading and shadowing.
While the graphics aren't blocky, they're semi-blocking. It gives Polycraft a nice touch and makes it very immersive.
Often, I found myself just wanting to play Minecraft instead of Polycraft, because you can clearly see how it's heavily influenced by Minecraft. But then you realize…it isn't Minecraft. It's like when you buy generic brands. It's like the real thing, but it's a little off.
The game is free, however, you can purchase premium currency to "enhance" your gameplay. Or if you just want to play the real thing, check out my guide on how to install Minecraft on your Chromebook.
Play Polycraft here.
Best Chromebook Game #5: Spelunky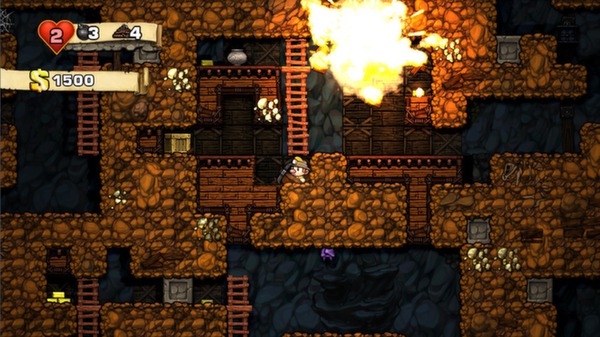 This game is like a retro version of Terraria. You basically play as an explorer who traversed deep caverns in search of treasures or other goals. It's a platformer with monsters and obstacles. Levels are procedurally generated, which means that each playthrough is different. You never play the same level twice.
There are a ton, and I mean a ton, of enemies, items, treasures, and more along with the random levels. This game is my second favorite when I need a break from Arcane Legends. The retro graphics and sound make this game a very relaxing game.
You go through the randomly-generated levels and rescue trapped friends. You also defeat enemies, solve puzzles, blow up rocks, climb ladders, and find treasures. It's seriously addicting.
The graphics are what bring the game out. It's like Terraria meets Mega Man, but with a retro theme and Indiana Jones as the protagonist.
You'll need to try out Spelunky. It's really one-of-a-kind. It's also free to play, so you have no excuse to try it out. Along with Arcane Legends, I play Spelunky when I'm offline or done grinding for the day. Yes, Spelunky runs offline and doesn't require any WiFi or Internet connection to run.
(Want more games that you can play without WiFI? Check out this list of 22 games that run offline.)
It also runs fine on Chromebooks, since the graphics aren't that demanding so you can play it lag-free without a hitch. You really have no excuse now to miss out on it.
Play Spelunky here. (You have to.)
Best Chromebook Game #6: Heroes of Loot
This is another retro-style game with more dungeon-crawling.
It has a top-down perspective like most retro dungeon games. Your goal is to navigate through the dungeons with a party and get the loot- just as the title states.
You can take on the role of a magic Elf, a powerful Warrior, or an agile Valkyrie as you hack-and-slash through the dungeons.  Do I sound like a game narrator yet?
There are a lot of enemies and mini puzzles and mazes you need to go through. It's a fast-paced game that'll have you traversing, running, and strafing enemies that appear in huge mobs. Kill them and then you can grab that prized loot.
You can grab gear, weapons, and quests as well to obtain and complete. The graphics in Heroes of Loot are very appealing, and the game itself is very, very fun to play. It also runs offline so you can play it on the go.
You use skills, level, defeat monsters, collect loot, and has all the traditional RPG elements you'd expect from a dungeon crawler. The retro touch to it is even better. It has retro graphics and sounds just like a classic 8-bit or 16-bit game.
If you want a full gameplay video, check this out. It covers pretty much the entire game and what you'll be doing. As you can see, it's very addicting:
I like to listen to music while dungeon-ing, so I usually have music in the background. The game runs smoothly even with music from YouTube in another tab. Since my laptop is dated, I'm pretty sure all Chromebook models can run it without a problem. The music isn't bad either, but it's nice to play to your own tunes to get in the zone.
After all, the game runs with retro graphics so it's not too demanding to run in the first place
Heroes of Loot isn't free but offers a free demo. It's definitely worth picking up if you get addicted to the demo.
Play Heroes of Loot here.
Did you find something awesome?
And there you have it. The 6 best Chromebook games I've played so far and still play today. Sure, there isn't enough games for every genre, but I'll make another best-of list when I've played more.
However, if you're into MMORPGs, MOBAs, and retro games, this list should keep you busy, as these games are probably the best I've played.
If you have a Chromebook, or you're running Chrome web browser, pick one, or two, or all, and try them out. You may just find your new best Chromebook game, or games.
That's the point of this list- to help you find the perfect time drains so you can have a good time and just entertain yourself. Who's to judge? Heh.
And then you have a new game to play while you're waiting for your hot pancakes to be served. Mmm. Pancakes. What?
If you have awesome games to suggest, leave a comment and I'll check it out.